Categories:
Trades
Construction
Electrician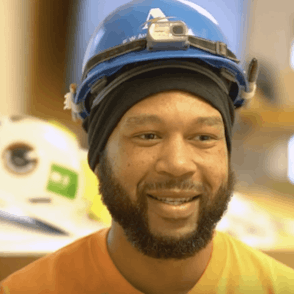 Tyrone Bell
Job Title
Electrician's Apprentice
Location
Woonsocket, Rhode Island
Education
Building Futures pre-apprenticeship program
"I'm happy because I see a light at the end of the tunnel. And now, after so long of not knowing what I was going to do, I have a path and I know what I'm going to be doing for the next ten years, twenty, fifty years of my life."
The Profession
My responsibilities are nothing like what I thought they were gonna be. I thought I was gonna come into work and wire a couple of things, turn on some lights, plug in some things. And that'd be it. But, actually, I haven't touched any wires like that. It's a lot of manual labor--running pipe, bending pipe.
The Best Parts
It's actually pretty amazing when you see—when I was here last year at this time there was no building at all—there were just dirt and an empty hall. And seeing how much progress we had from last year to this year—it's nice to see. Then you can look back at it for years to come and say hey, I was a part of building that.
How I Got Here
When I was younger I wanted to be in the NFL. That's what I dreamed of doing my whole life. I played semi-pro football for the Wardogs in Rhode Island. Until I was like, 19 years old, it was still a dream, but things happen, life goes on. After I went to college—I went to college for two years—I couldn't afford to keep going. It cost a lot of money. And after that, like, I jumped around from job to job—I worked at Burger King for six years and I did Applebees. I was a waiter, a bartender. A whole bunch of dead-end jobs. I didn't know what I wanted to do with my life. Well, when you sit around and just work here and there and go out and have fun and get in trouble, you start to lose options. I have two kids now and it was to the point where I had to crack down and I heard about the Building Futures program and it basically was, I wanna say, my last chance of making something of myself. Building Futures is a pre-apprenticeship program for low-income people. They help you out. They teach you a little bit of each trade and tell you what you're better suited for.
A Typical Day
I go to work Monday-Friday from 7 a.m.-330p.m. Then Tuesday, Wednesday and Thursday I go to school from 5-8p.m. So right after work I go to school and I'm there until 8 o'clock at night, and then I start the day over again. It's a long day but in the end, it will be worth it. I have an 11-year-old. I had him the summer before my senior year at high school. It was a life-changing experience. It's something that you should really think about before you make decisions. I would say, use protection, and if you're gonna be with somebody, make sure you love the person before you start having relations. Because kids need both parents.
Today we got a big delivery of wire. We got 50 reels of wire so I was outside, was rigging it up, using the crane to bring it from the ground to the fourth floor.
Myths of the Profession
A union is not what everybody thinks it is. A union is a brotherhood, it's camaraderie. It's a group of people working together to accomplish a goal. It's everybody getting together saying, we deserve to get paid for what we work. We do work hard.
Advice for someone thinking about going into the field
Electrician 101 does not touch anything that's live.
Advice to my Younger Self
I'm happy because I see a light at the end of the tunnel. And now, after so long of not knowing what I was going to do, I have a path and I know what I'm going to be doing for the next ten years, twenty, fifty years of my life. And I know this is going to be something my sons can be proud of, and something I can be proud of, eventually, in the future.
Categories:
Trades
Construction
Electrician
"Each other's lives are our best textbooks."

– Gloria Steinem
Sign Up