Categories:
Engineering
Civil Engineering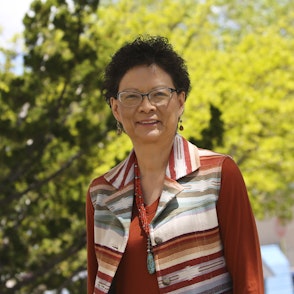 Sandra Begay
Job Title
Researcher/Principal Member of Technical Staff for Tribal Energy
Company
Sandia National Laboratories
Location
Albuquerque, New Mexico
Salary
$115,000 to $196,000
Education
University of New Mexico – B.S., Civil Engineering, 1984-1987
Stanford University – M.S., Structural Engineering, 2000-2001
"My grandma didn't have electricity. I was in junior high and recall the day my family drove at dusk to see my grandma turn on her electric porch light for the first time. There were no streetlights on the reservation, so seeing the glow of her porch light left an impression on me."
The Profession
I'm a researcher at Sandia National Labs. The lab's primary mission is to work with national security. But I've always worked as a civil engineer. Now, I lead Sandia's research effort to assist Native American tribes with renewable energy. We provide technical assistance for solar electricity panels and other renewable energy sources to people living on tribal lands. I provide technical assistance to tribes regarding their renewable energy projects, as well as technical reviews of the projects. I am a national subject-matter expert on tribal renewable energy development.
It's unusual for a native/indigenous woman to work in engineering. In the United States, there is one native woman for every 13,000 U.S. engineers. To illustrate how few native women are engineers, picture the arena at the University of New Mexico in Albuquerque. The bottom section of the arena holds 13,000 people. If you filled that section with 13,000 engineers, I'd be the only native woman. I'm used to being an outlier, but I'm trying to grow more women engineers. For native women, Hispanic women, or Black women, there are wonderful opportunities in engineering. There are not many of us, so you can excel and have a great career and make good money. Engineering is still a profession dominated by white men. But that made me unique. I was native and built a solid reputation as an engineer. I was given many interesting assignments, including what I do now: Helping to bring renewable energy to tribal lands. STEM fields open a world of possibilities, which is why I encourage young people to study STEM. You must like problem-solving, though, because that's what engineers do: problem solve. I listen intently to the challenges people face. And I try to figure out answers to the problems.
I've been working on renewable energy for 20 years. Nearly two decades ago, I started helping the Navajo Tribal Utility Authority develop solar systems for tribal residents not connected to the grid. Since then, I have helped 18 tribes with their renewable energy strategic plans. I've worked with the Acoma Pueblo; Crow Nation; Fort Independence Paiute; White Mountain Apache; Turtle Mountain Chippewa; Navajo Nation; Shoshone and Bannock Tribes; Mohawk Tribe; Mescalero Apache; Hopi Tribe; Klamath Tribes; Menominee Tribe; Delaware Tribe; Hoonah Village, Alaska; Hughes Village, Alaska; Gila River Indian Community; Picuris Pueblo and Santa Ana Pueblo. All of them modified their energy policies. Others developed plans for solar plants; or built solar farms. I help them understand how renewable technology works. I describe the technology in easy-to-understand language. I explain how these technologies work, and they choose the system.
I'm a member of the Navajo Nation, where remote areas are still off the power grid. So, I think big. Instead of bringing them traditional energy, I help them get the best renewable energy systems available. Some think this is a technology push, but I don't. One solution we came up with is to install batteries that power solar electricity in tribal homes. It's novel to bring solar systems to houses that are on remote tribal land a few hours' drive from the nearest grocery store. Many tribes are considering cleaner power, either wind power or solar, and some are interested in biomass – using wood to create energy through heat and steam. It depends on the tribe's resources and their goals. At the Navajo Nation, we are in the desert. It's hot in summer but cold in winter, and climate change has affected our land. We try to ensure that every home has the option to have electricity so that people can have easier lives. We don't ask people who live in remote tribal lands to move. We want tribal people to live where they've grown up, where their homes are, and we create energy solutions that improve their quality of life.
The Hardest Parts
Developing trust in the communities we work with. It takes time. You've got to build rapport; you must understand how the energy work meets their needs. How are you going to maintain a renewable energy system once it's in place? Who will maintain it? You can't just install it and leave. It takes a lot of planning, a lot of engineering, and a lot of time spent developing trust with tribal leaders. And I need to listen to their goals, desires, and challenges.
The Best Parts
The best part of my job is working with tribal people. They have such wonderful long-term goals. When I interact with them, I try to understand their hopes and dreams for their tribes. I try to give them ideas on how to sustain renewable energy projects. I have an analytical brain; I must come up with solutions that help people. So, in that sense, I solve problems with my clients. But I must learn, first, what are their needs, and what might be some opportunities for them to consider. Ultimately, they decide what they need to do. I'm just giving them options. And so the best part of my job is brainstorming and thinking of the things that we could make happen, and having them pick the energy path that is right for them.
The Mohawk Tribe in New York state is a great example of a rewarding project. New York is not always sunny, but the tribe did a major solar initiative. When we had a planning session, tribes from the US and Canada attended. It was interesting to have chiefs from both sides of the border come together to develop an energy plan. They started off slowly by installing a solar array in their senior center. Then, when that worked well, they went full guns and installed solar arrays on most of the houses. Solar is environmentally benign and is also cheaper. Well, the Mohawk tribe got the latest technology, and they installed geothermal heat pumps. For common buildings with many apartments, they have a heat pump that uses underground fluid for heat in the winter and uses the same fluid for air conditioning in the summer. They save power using this great new technology. My work is very rewarding.
I'm also proud of the internship program I created. It's sponsored by Sandia and the Department of Energy's Office of Indian Energy. As part of the internship program, students spent summers working on energy projects for tribal lands. We take a lot of field visits to the lands to enable the interns to learn about and help solve their energy problems. I started with one Native woman intern in 2002 and have since mentored 47 interns with 63 percent women interns. It's our 20th anniversary this year. I help indigenous students gain confidence in STEM and become leaders. I was recently honored and humbled to receive the 2020 Indigenous Excellence Award from the American Indian Science and Engineering Society. I have received several awards, but I'm proud of this one because it's for helping young indigenous students grow intellectually and find careers they love.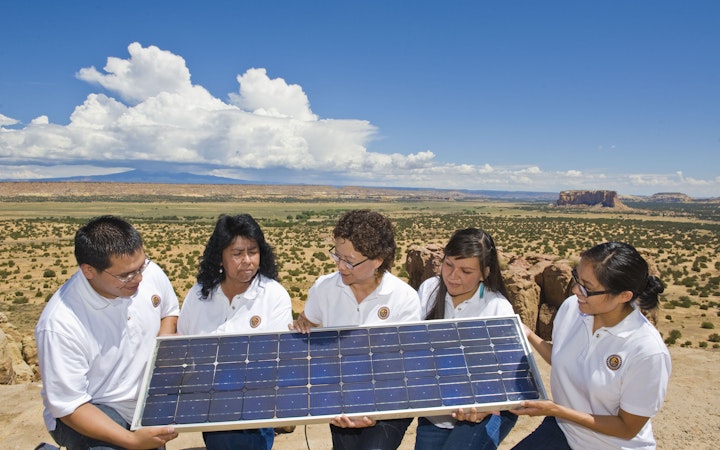 How I Got Here
I think it was in the fourth grade, living at a boarding school. My mom was studying at the University of New Mexico, and my father was a tribal leader and politician who traveled for meetings across the Navajo Nation. So they put my sister and me in boarding school from fourth through sixth grade. I had long black hair, and we had to shower every morning. I was miserable in winter because my hair stayed wet and cold. Instead of dwelling on my misery, though, I tried to solve the problem. During a trip to Disneyland, I saw a monorail and thought to myself, "Why can't we have a monorail at school? That would allow me to stay warm while getting to the dining hall for breakfast." That was the beginning of my problem-solving mindset – an engineer's mind. Then in sixth grade, a teacher saw that I liked science and math. He talked to me about careers in STEM. I liked buildings and had heard about architecture. I was not good artistically, but I could draw a straight line. I learned that engineers made buildings based on drawings and worked with architects. That planted the seed in my young mind – that I could be an engineer.
I didn't have advanced math or science in high school, so I did some remedial education at the University of New Mexico's Gallup branch, then transferred to the main campus in Albuquerque. I graduated with a degree in civil engineering. I knew I needed a master's degree to work as an engineer, and was awarded a fellowship to study at Stanford, where I studied structural engineering – how to design buildings to withstand earthquakes. My Navajo beliefs taught me that you couldn't control nature, but you can work within nature. You can't prevent earthquakes, but you can design buildings for minimal damage, so people within those buildings don't get hurt.
I grew up in Gallup, New Mexico, a border town of the Navajo reservation, just outside the tribal land. If you lived on the reservation, you couldn't get equity in your home. My mom knew about the law and insisted we live in Gallup so we could own our house. We had electricity at home, but we visited my grandmother every weekend on the reservation. She was a sheep herder and allowed me to help her. I never lost a sheep. The matriarch entrusts her granddaughter with her livelihood, which is her sheep. My dad represented a community called Church Rock. I would go with him when he visited the chapter house for meetings. I'd listen to the meeting and then go outside. I'd look at the land – the beautiful red rocks. I developed a deep appreciation for tribal land. That's why I chose to study civil engineering; You're taking care of public infrastructure.
My grandma didn't have electricity. I was in junior high and recall the day my family drove at dusk to see my grandma turn on her electric porch light for the first time. There were no streetlights on the reservation, so seeing the glow of her porch light left an impression on me. My dad and mom did not grow up with electricity; many families living on the Navajo Nation didn't. My grandma also did not have running water or sewage lines. She used propane to heat her stove. I was beginning to understand the needs of the Navajo. I read history and learned that when the Rural Electrification Act brought electricity to rural America in the 1940s, they skipped the reservations. All the small farms and rural towns received power, but not the tribal lands. Rural tribes like Navajo, the Crow Nation, and the Hopi still today lack infrastructure. Tribal people live simply. They keep sheep and cattle. They lease their homes. Their land is very remote; it's very rocky; it can take several hours to get to a grocery store. There are still people who buy ice at the store and keep it in ice chests. So many parts of the land still lack infrastructure. Sometimes people say to me, "Why don't they move?" That's a naive solution. That is asking someone to leave their ancestral land; leave their families; leave their heritage. Instead, I work to bring them the infrastructure that helps them remain on their land. I tell people I'm an overnight 20-year success. Now, all of a sudden, everybody wants to talk to me. How do I do it? It's all about building trust. It's all about listening. I assist them by proposing energy solutions that match their needs. Now, I've argued with an engineer who said to me, "Sandra, you're pushing advanced technology onto these grandmas and grandpas? What if they don't want that?" I told her she was missing the point. I'm never going to push anything on anybody. If I can make their lives easier. If I can give them something that helps to get the power that is cheaper and cleaner, they can stay where they live. They don't have to move. That's what I'm trying to do: Offer them infrastructure and energy that helps them stay home and have easier lives. I love my job.
A Typical Day
Before the pandemic, I traveled quite a bit. I'd visit the tribal lands and meet with project managers or tribal leaders. Oftentimes we'd do a three-day session on the tribal lands. I just completed a session with the Santa Ana Pueblo in New Mexico. We are starting to get back to visiting tribal lands and facilitating dialogues with their communities. The leaders often create 10-year plans for installing renewable energy. By the third day of a session, they will put together a 90-day action plan. I'll spend my time in the community, meeting with the citizens, the administration, the tribal council, the governor, and businesspeople, who all come together for three days to create the energy plan. That's a fun typical day for me – to get out and help people in the planning sessions.
When I'm back in the office, I do a lot of video calls. I try to understand the energy needs of the tribal land I'm working on. How do I map out the project? How much staff do we need for the project? I'm known for being picky about colleagues who assist me. I want them to be extra sensitive to tribal interactions. Those who work with me on projects go through training on how to work with tribes that have sovereign-nation status. I want them to understand the history of tribes, so if they interact with tribal leaders, they understand their backgrounds. A typical day also includes getting staff up to speed, and meetings with them to see where they are with specific tasks. A lot of it is organizing the work of my colleagues, trying to understand how to balance the budgets, and creating monthly reports for the federal government – typical managerial work.
The Workplace
Sandia Labs, on the Kirtland Air Force Base, has more than 500 buildings. It's really big. I had a nice office with wide windows and good furniture. Before COVID, it was great to walk down the hall and talk to colleagues. A lot of my customers visit me in my office, and I also manage student interns, so it's great to have a comfortable office. On the walls, I have pictures of my family. I've got a rug that I was given as a gift. I have postcards from the places that I visit, so I can remember all the places I work at. My extended family is most important to me, my nieces and nephew. I keep photos of them on the walls. Next, the tribal lands are important to me, so I have many pictures of the lands that I've visited and worked in. My work involves a lot of relationship building, with my colleagues and with my customers, and my office reflects those bonds. Now post-COVID, I work from home – telecommute.
Myths of the Profession
A myth /lie is that girls can't do math. There are not many women who work in science and technology fields, but that is changing. There are more women working in STEM workplaces now, though most of them are white. It is harder to find brown women – Latinas, African Americans, and native women in STEM. But there are many opportunities for them, which is why I often talk to girls and encourage them to study STEM. As a minority woman working in STEM, I've had a lot of great opportunities. I've loved my 30-year career and want other girls like me to have the same opportunities in science and engineering that I've had. Some young tribal people are afraid of making money. They believe in the myth that tribal people will never make a good income. Not true. There are few of us in STEM, so the opportunities are great. Another myth is that they can't leave their tribal land. That they must stay home. No. You may need to leave to study at college, get certifications, and get work experience. You can come back later in your career and help your ancestral community. You will bring all you learned back home and help improve the quality of life of your community.
Advice for someone thinking about going into the field
Study hard, get good grades, and doors will open for you. For engineering, you pretty much need a master's degree – you need a specialty area, and you must know your stuff. You must master your field of study. Then, once you get your first job, you've got to work hard and build your reputation. You must be counted on to do good work. If you are a woman or a minority, people might think you are an affirmative action hire; prove them wrong. I know some people thought that of me during my first job, but I proved them wrong. We were graded each year on our performance, and I swam as fast as the other fish in the pond, or faster. I have been a high performer all my career. Work hard to make sure you are a good engineer.
I found over my career that underrepresented minorities, many Native students, are discouraged when they're young. The big one I heard was that girls can't do math. And I say, "of course I can do math." I did extra homework. I worked at it until I could figure out a problem. And if I couldn't solve a problem, I asked for help. Since then, I've advised many young women to go into STEM fields. I tell them, "Don't believe that lie: Girls can't do math." If they need help with math, I'll offer it to them. That's been a key to my career. When I got myself into situations where I didn't know what to do – if I couldn't solve a problem I'd ask for help. Even in college, I was always willing to get others to teach me what I didn't know. Don't be afraid. That's what I try to instill in girls. Don't let anybody make you afraid. If you study a STEM curriculum, do your homework, and if you don't understand a concept, ask for help. All these doors will open for you. If you're afraid, you'll never get the opportunities. "Who said I couldn't do math? That's a lie. I'll prove them wrong." That's the way to think.
Sometimes young people don't believe that I'm doing what I'm doing. They are like, "You grew up in Gallup – you grew up near the rez, and you have been an engineer for 30 years? I can't fathom that." That's my point. You have to see me to understand it's possible. That's what I tell my interns. I have four nieces, and they are all engineers. But I never sat them down and said, "You need to do this or that." It was all by observation and it was their choice. They saw that I had great opportunities and that I loved my job.
Advice to My Younger Self
Don't be so serious. Don't put so much pressure on yourself. If you don't do well in something, that doesn't mean all native women will be viewed as failures. You are not a symbol, and it's too much pressure to see yourself as one. Also, don't suffer from imposter syndrome. I had to get over the feeling that I was an imposter. But my work and reputation proved that I was not an impostor. I earned the right to be a scientist and an engineer. No one let me into the STEM field for no other reason than I earned it. I recall my younger self living in San Francisco and think, "I should have watched Joe Montana, the 49ers quarterback, play football." I had free tickets but never went to a game. The team was great, and it was so hard to get tickets. But I decided I needed to study. That was a mistake. That was stupid of me. I liked the 49ers and had a chance to see them play for free. But I was too studious. So to my younger self I'd say, "Forget your studies for a day and go watch football. Go have fun!"
Categories:
Engineering
Civil Engineering
"Each other's lives are our best textbooks."– Gloria Steinem
Sign Up