Categories:
Science
Zoology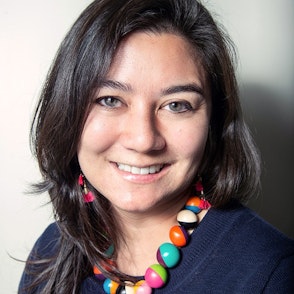 Misha Body
Job Title
Director of Husbandry
Company
California Science Center
Education
Connecticut College – B.A., Zoology, 1998-2002
Columbia University – Certificate, Conservation Biology, 2003-2004
USC – Certificate, Management Development, 2014
Association of Zoos & Aquariums – Certificate, Management & Operations, 2013-2017
Miami University – M.A., Biology, 2015-2017
Association of Zoos & Aquariums – Certificate, Executive Leadership Development Program, 2020
"The job is really about taking care of animals so that we can engage visitors in whatever the exhibit messages are. And hopefully, get them to change their behavior around protecting wildlife and being more sustainable in their own lives because we know that our own behaviors and actions impact the world around us."
The Profession
My profession is really tied to zoos and aquariums. I'm currently the Director of Husbandry, which means I am the head of the department that takes care of the animals that we have here at the California Science Center. And those animals help us illustrate different kinds of scientific concepts in a really interesting way. Live animals have a way of engaging guests that touches their emotions; we factor in empathy and how we can create empathetic connections with these animals. Through those connections, we're able to really engage people in these different exhibit goals, whether it's talking about evolution, extinction, adaptation, biodiversity, or whatever the scientific concept might be. We do that through live animals, interactive exhibits, and interactive environments.
More generally, I work at a cultural institution. The California Science Center is a science museum and the live animal exhibits are one type of gallery that we have here. I identify more specifically with zoos and aquariums since zoos and aquariums are places that have live animals more so than a museum. The professional organizations that I work with the most are the Association of Zoos and Aquariums and the American Association of Zookeepers. And that's where I got my start, as a zookeeper. The job is really about taking care of animals so that we can engage visitors in whatever the exhibit messages are. And hopefully, get them to change their behavior around protecting wildlife and being more sustainable in their own lives because we know that our own behaviors and actions impact the world around us.
The Hardest Parts
You always want more budget to do bigger things. And budgets are very finite. I think that is certainly a challenge that we're seeing even more today. All zoos and aquariums had to close for the last few months, and yet our operations continue. We have lots of expenses when it comes to taking care of animals, and no revenue coming in. So that's been a really, really big challenge.
Another challenge is not everybody agrees that having animals in human care is the right thing to do. And it's hard sometimes to hear people who are extremely emotional and passionate (in the same ways that we care about what we do) yell at us for doing our jobs. But it's really important to remember that we all believe the same thing: that animals should have dignity and be cared for and experience excellent welfare. We just have different opinions about how to do that. So that's hard but it comes with the territory. We see the benefit of having these animals be ambassadors for their species to the hundreds of millions of guests that come through the doors of accredited zoos and aquariums.
The Best Parts
Over the course of my career, one of the things that I've loved the most is getting the opportunity to talk with members of the public about these incredible animals that we work with. I enjoy being able to relate those individual animals to the larger story of endangered species. That's our way to get people to become aware of the problems that exist in the world and what they might do to help mitigate those problems. It's extremely rewarding. Even if that's not my job anymore, it's still so gratifying to know our organizations as a whole do that. Here at the California Science Center, we're all about stimulating curiosity and inspiring science learning in everyone. Science is the way you understand the world. In this day and age, it's so critical and so important.
In my current role, I love leading a team. Seeing people be successful in their roles, and knowing that I had something to do with leading them to that success, is really fulfilling. The twisty path that my specific career took means that I'm not an expert in animal care or conservation. Those are the two things that I love, but that's not where I'm going to make my impact. I've thought about where my impact would be, and I've always gravitated toward mentoring others or helping others. Now I serve as the Vice-Chair of the Professional Development Committee for the Association of Zoos and Aquariums. My Master's degree was about helping people gain a foothold in a career in zoos and aquariums and continue their professional development and growth. I've realized that if I were able to create opportunities for people to do their best work and grow professional skills, at the end of my career I'd have had an impact on an army of conservation workers. I'm doing some of that work now, but I haven't been in it long enough to necessarily see all of the results. But I know that that's where I'm going and that's super exciting. My goal is that I will have had an impact on our profession and on a bunch of individuals who are extremely passionate and extremely skilled in making a difference in animal conservation and animal welfare.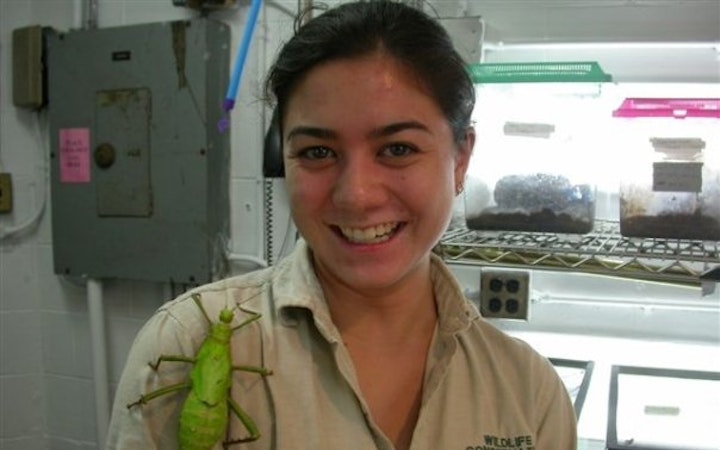 How I Got Here
I grew up in Connecticut, where we had woods all around us, and I would go on hikes with my dad to Sleeping Giant State Park. On one of these hikes with my dad–and I might have been 7 or so–we saw an osprey, which is a kind of bird of prey. At the time it was still really rare to see them because they had been impacted by the pesticide DDT. Probably the most famous example of DDT impacting a species is the bald eagle, but other species were affected including osprey populations. The birds would ingest this DDT and their eggshells would get really thin, so when the parents would go to sit on the eggs to incubate them the eggshells would break. When we saw this osprey it was so amazing to me, and I remember my dad saying "you'll see more if you're quiet." Just then a group of kids came tromping up the trail. They were really loud and they scared the osprey away. I was so mad at them! I remember that experience and realizing how special it was to see this really rare animal, and I sort of felt a responsibility about it, thinking that it's something we need to fix– that there was a human impact on this species and we need to do better.
In high school, I had no thoughts of going to college to study science or zoology. I loved animals but it wasn't where I thought I was going to go academically. I actually applied to colleges as an English and Drama major, and then when I got to college, I realized I had no talent for drama. I had a high aptitude for English but it wasn't super exciting for me. Luckily, I was enrolled in a liberal arts college (Connecticut College in New London) and I switched my major to zoology. It's not the thing that comes naturally to me–I'm naturally better at English and writing–but it was far more interesting and motivating for me. Throughout my time at Connecticut College, I was trying to figure out what I would do with this degree. I knew it was the thing that I should be studying, but I didn't know what I would be doing with it. One summer I got a grant to do some research on a tidal salt marsh in Connecticut. It was hot and stinky and I got eaten alive by mosquitoes, and my legs got cut up by reed grass. We'd go back to the lab and have to spend hours looking through a microscope at these teeny tiny little invertebrates and counting the segments on their antennae to figure out which species it was. I felt it was tedious and thought, "Okay that's not for me."
After working a whole summer on these teeny-tiny animals, I wondered what it would be like to work with big animals in a zoo setting. The next summer I was fortunate to get an internship at the Bronx Zoo, and my job was basically to take care of the animals. As an intern, it was a lot of cleaning up after the animals and helping to mix their food. I also did a research project on what's called behavioral enrichment for Siberian tigers. Behavioral enrichment is the stuff that you give to an animal to promote natural behaviors. With this project, I saw what kinds of things tigers like, what they responded to, and what kind of responses they were.
The last 2 years of college I had an opportunity to volunteer and intern at Mystic Aquarium, which was down the road from my college. I did pretty similar things there to what I'd done at the Bronx Zoo, in terms of task work. It was a lot of cleaning up, doing dishes, and preparing food for the animals. But I was also working with seals, sea lions, and penguins, and since they were just starting their beluga whale interaction program, I was helping out with that as well. I also had an internship with the World Bird Sanctuary, where I was taking care of birds of prey. That was one of the first opportunities I had to not only take care of the animals but bring those animals out and have a hand in directly educating the guests, which was thrilling.
Once I graduated and finished my internships and volunteer positions, I actually went back to the Bronx Zoo as a full-time paid animal keeper. I worked in a couple of different buildings regularly: the Southeast Asian rainforest building (Jungle World), Congo Gorilla Forest, and the World of Darkness, which is now closed but was a nocturnal house with lots of bats and porcupines. That was really neat, and I was there for about 2.5 years. And then I moved to California because even though I grew up on the East Coast, I must be a California girl at heart. I came out here for a vacation and had such a great time. There are so many different types of nature here, you can hang out at the coast and go tide pooling or be in the ocean, you can go hiking, or go out to the deserts. Southern California is actually a biodiversity hotspot.
When I moved out here in 2004, I realized that I wanted to get more involved in public engagement. When I was a keeper at the Bronx Zoo I didn't have as much opportunity to be in front of the guests. I tried to get more involved in environmental education, so I worked for a little bit at the Santa Monica Pier Aquarium in their education dept. Then I was able to get a job at a wildlife education company. That job entailed taking care of animals and taking them out to schools and private events, which was so incredible. In 2008 I started at the California Science Center. They were building a whole new wing that was dedicated to the science of ecology and would include live animals to help illustrate those different scientific concepts. They needed a department to take care of those animals, and I started as the coordinator of the department and was the first member of the whole team. I've seen the development of this department over the past 12.5 years, from the growing pains to the incredible highs of opening a whole new exhibit and seeing flocks of guests come through. For the past five years, I've led the Husbandry team.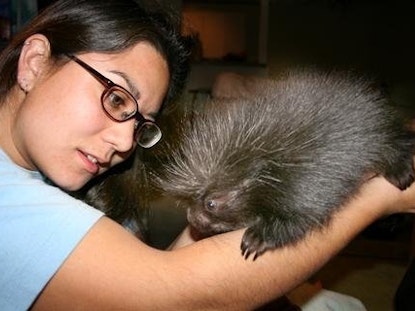 A Typical Day
My current job is to take care of the people that take care of the animals. That's really how I see my role–making sure that my team has all of the tools they need to do their work to the best of their ability, and that they have the training and a supportive environment. That work includes boring stuff like spreadsheets, budgets, and lots of meetings. The California Science Center is closed now due to COVID-19. Most of my team is on-site, so much more of our jobs involves coordinating and communicating. A typical day for me includes a lot of meetings, thinking, "Okay this group is doing that thing, how is that going to impact this other group, and how can I remove the roadblocks and make everything seamless." I've got a passionate team; I want to encourage them and help them corral their ideas into things that fit within the scope and the mission of our department or institution.
I have some great stories from my job! Because I was here when this building was a hole in the ground, I was able to see everything built from the ground up. That included the biggest animal exhibit that we have in Ecosystems: the 188,000-gallon Kelp Forest. As far as we can tell, we're the only closed system in the world that has been able to grow and reproduce live giant kelp. But before there was water in it, it was a construction site. We had rockwork artisans building out the rockwork that would become the frame for the whole exhibit. Right when that was happening, my partner and I had moved into a house that we were doing some renovations on. We had a party at our place, and invited everyone from work and all our friends. Because the house was a work in progress, we had some holes in the wall that we had covered over with paper. A coworker had come into possession of some ceramic owl figurines, and he and the rest of the team hid them all around our house, including in the walls of our house. We never recovered all of them! At the same time, we were building that kelp tank so I brought one of those owls to the rockwork guys and asked if he could incorporate it into the rockwork. Our guests wouldn't see it, but it would be funny for our divers to find it. The rockwork guys thought it was hilarious (and not uncommon, apparently). So, to this day, there is an owl in the rockwork of the kelp tank. And the divers call that part of the tank The Owl Cave. That started a tradition, so whenever we do mini-renovations to our animal exhibits, from the staff side we'll add a little figurine as a memento.
The Workplace
We're business casual here at the California Science Center. Our staff that interacts directly with the guests wear a uniform, and that's primarily so our guests know how to quickly identify who is a staff member and who can help with questions. Work-life balance can be hard. And not just for animal care positions, but for people who gravitate towards nonprofit or mission-driven work, it can be difficult to turn your work brain off and be at home. We're passionate about what we're doing. And when it comes to animals, they have a 24-hour life. People may clock out for the day, but if something happens, we do have staff here 24/7 and we'll be alerted and have to respond.
We also work hard to be supportive of one and another. It's really important to take care of your mental health because if you don't, the work can sometimes be really sad or frustrating. In our team meetings, we talk a lot about self-care, and making sure that we know we can say, "I need a mental health day." What helps is cultivating an environment where people really feel like their teammates have their back. Even if they don't want to share their emotions, they should feel like they would be understood if they decided to share.
Myths of the Profession
There's not a lot of cuddling animals. That's not really what any of our jobs are. We do develop relationships and even bonds with certain animals, but we're not spending all day playing with animals. It's a physically taxing job. It can be very dirty. And again, there's the necessity of being able to relate to people.
Advice for someone thinking about going into the field
For somebody who wants to get into working with animals in zoos and aquariums, the best way to do that is to get experience volunteering and interning. There has been a lot of conversation about the difficulty of the accessibility of those opportunities because you're essentially working for free during that period of time. There often isn't a budget to pay interns or have truly entry-level positions. An entry-level keeper position means that you need 2 or 3 years of experience, so in most places, you don't get paid without experience. For right now, getting hands-on experience taking care of animals is the best way to get a foot in the door.
The other piece that I think is really important is to recognize and hone your people skills. Historically, some people gravitated towards animal jobs because they'd think, "I'm not a people person, so I'm going to work with animals." But the thing is, nobody works alone. You have to be able to interact with your teammates and your supervisor. As a supervisor, you have to influence and lead your team. They're often called soft skills, but in fact, they're very hard. Being able to communicate, get along and compromise, influence others–those are skills that take time to develop. The further you go in your career, the more important those skills become.
Advice to my Younger Self
When I was a first-time supervisor, I wish I had done some things differently. But I learned from my mistakes and I will never do things that way again. I think it's important to think about mistakes and failures as learning opportunities. Because we're all human. My advice to a younger Misha would be to keep sticking with it, and don't get as frustrated by what you might see as a setback, because there's something to learn from that thing.
Categories:
Science
Zoology
"Each other's lives are our best textbooks."

– Gloria Steinem
Sign Up