Categories:
Communications and Media
Newspaper Reporter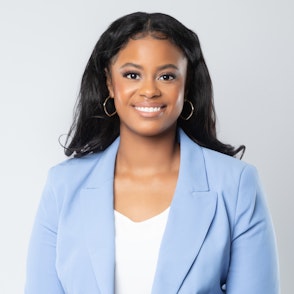 Jordan Baker
Company
The Vallejo Times-Herald
Education
S.I. Newhouse School of Public Communications at Syracuse University – M.A., Journalism, 2020-2022
Clark Atlanta University – B.A., Business Administration, 2014-2017
Bunker Hill Community College – Coursework, Journalism
Lincoln Land Community College – Coursework
"I get to cover crazy events, events I never thought I would be able to go to. The first event I covered was Celtics player Jayson Tatum's basketball camp."
The Profession
I've been writing as a reporter now for the Back Sports Page publication for about five years, and I still have so much fun with it. I get to cover crazy events, events I never thought I would be able to go to. The first event I covered was Celtics player Jayson Tatum's basketball camp. I cover games now, and it's just phenomenal. I've been with them for five years and started with the Vallejo Times-Herald not too long ago.
I'd describe reporting as chaos and coolness. It's chaotic because the news never stops. Stories are everywhere, but you have to find them. I think that that is where the coolness comes in. You'll just be somewhere, and then out of nowhere, you see something beautiful, that makes you think, "You know what? I want to talk about this. I love this." You can use your own personal experiences, or you can use what you don't know and your curiosity as a starting place—"What is this? What are you doing? Is this something that happens often?" And you just start flowing.
For Back Sports Page, as I said, I have done mostly sports, but I also have done a lot of human interest stories that speak about the athlete and what they're doing in the community beyond the arena. I have definitely done a lot of features about basketball camps, bowling parties, charity events, and things like that. My feature writing is pretty much what enticed my boss to hire me, so that's what I'm doing now. I'm still covering a lot of sports. I actually just covered a few basketball games, and I love that. From time to time, I can also tell my boss, "Hey, can we cover a girl sports, you know?" Overall, what I've been doing is focusing on features and sports writing, but also still sticking to what I know and love.
Features writing, for those who might be unfamiliar, is news writing but just with more heart. It's a different type of journalism. Features touch your heart, and they pull those heartstrings. It's not supposed to be sympathetic or anything like that—it can be, but it's just something that makes you feel good when you read it. There was a lot of negativity and negative media that I encountered as I first learned about Vallejo, California. I'm not from here. I've lived in Sacramento for the last year, so when I first heard of Vallejo and The Times-Herald said, "Hey, do you want to work in Vallejo?", I was like, "Yeah, fine, wherever that is." When I did my research, I did not find a lot of good, and it was actually heartbreaking to get myself into. Now that I'm in Vallejo speaking to people, I'm meeting people and I'm starting to see the heart of Vallejo. I'm just starting to see the good, and I want to talk about that good.
The Hardest Parts
I am a very passionate person, and I want to ensure that my passion is not bias. I want to ensure that every voice has been heard without biases. That can be tough, and I am just now getting to that stage where I'm encountering that. However, I see what other reporters are talking about when they talk about their passion. For example, as far as the community of Vallejo goes, it's home to a lot of Black and brown people. There have been many police shootings towards the community. To figure out the balance of me wanting to highlight that but still show the good in Vallejo—it can weigh on you.
As a reporter, you have to present on everything. Granted, I'm newer as a reporter, so there's still a limit to what I can do right now. Now, moving forward, do I want to go on the deep end and show the issues or continue with fun-hearted features? Again, when I researched Vallejo coming in, there wasn't a lot of good news out there at all. Again, I've lived in four different cities, and I have an affinity for people who love their city, who don't just go to the sports games and say they love their city. No, I love people who are in the community. It's imperative that we show that. You can't turn a blind eye to the issues, and The Vallejo Times has done a great job at showcasing the things that have gone awry, but for me as a reporter, what do I want to put my time in? It could be difficult.
The Best Parts
Vallejo is a beautiful city. I want more people to see that and not just the violence or the pain. I would love for people to see the beauty, as well.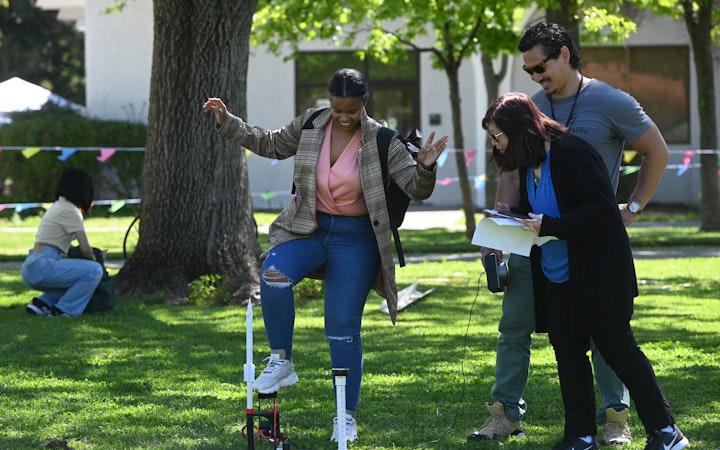 How I Got Here
Originally, I'm from Springfield, Illinois. It's actually the capital of Illinois, not Chicago. I went to Lincoln Land Community College for a year. I took a gap year, and back then, my parents were still suffering from the recession and just trying to figure out what was going on. So, I'm originally from Springfield, but I knew that I wanted more. I love my hometown. I love the people. I love going back to the State Fair every year, but I knew that there was more, and I wanted to see more. It was always my dream to go to Clark Atlanta University ever since I saw the movie Drumline, so the moment I could make that happen, I did. I think moving to Atlanta was such a big jump that it makes all the other jumps seem small, even though that was technically my shortest jump. I went from Springfield to Atlanta, then Atlanta to Boston, and Boston to Sacramento, which literally was an across-the-country move. I did not realize that until I went back to Boston to visit a friend, like, "Hmm, I really did move across the country."
Looking back, I have had every crappy job in the book. I've literally had them all. Again, the recession back in '08 or '09 made it very impossible for my parents to help me with college. I had to figure it out. My first job was working at Champs, then Burger King, then DSW. I've had them all, and honestly, I got many of my jobs from being at another job, just talking to people and not even trying to get another job. Someone would say to me, "You know, you're really good at sales. You're really good at speaking with people." That's pretty much it. I don't want to sound boastful, but I guess I'm a really good conversationalist, and that's how I got to be where I am.
My family was extremely supportive—as long as I stayed in Springfield. When I was 19 years old, my father passed away. He was always very adamant about me being around. After his death, I needed a restart. I needed to figure out who I was, and once I got my acceptance letter, I had to go. My hometown was no longer filled with love—it was filled with grief, and it took a very long time to get it back to where I feel love when I go back because it's still that grief. My parents have always been super supportive, they just always wanted me to stay in Springfield. My father was originally from St. Louis, so he didn't mind if I was in St. Louis, since I'd be around family. Moving to Atlanta was a jump, but I knew that's what I needed to do.
I received my bachelor's degree from Clark Atlanta University in Business Administration with a concentration in management. I was always told if you got a business degree, you could make money. I had an internship with an online publication where I wrote my first article, started interviewing people, and covered events. Even though that internship fell within the marketing category, the work really was journalism and communications, and I fell in love with that field. That internship came, however, during my senior year, and I didn't have enough money to pursue journalism any further. So, I pretty much figured, "Well, I'll just get a job, and I will figure out if I want to do media later."
I ended up getting a job in Boston, which is the mecca for sports media. I was trying to get jobs and trying to get a side job at the time, and I couldn't get one. No one really cared about my bachelor's degree in business. I had to figure out how to connect, how to network, and honestly, the best way for me to do that was through school. I didn't exactly have enough money to go get my master's at the time, so I started at Bunker Hill Community College and took four or five classes for one semester. My courses included Intro to Journalism, a computer-related course, and Communications—all of those courses. I needed to build that basis because I didn't really have it in college, where I mostly was doing economics, accounting, and all those boring classes. At Bunker Hill, I met Professor Ruch, an English professor, and I learned so much working with her on Tell, Bunker Hill's digital literary magazine. I was an editor for the magazine and actually emceed an event. I just felt like, "You know what, I can do this." Because for me, I can be unsure of myself many times, and the moment that Professor Ruch asked me to be involved, I was like, "Me?" But I had a great time doing it, and I learned so much through working with the magazine about collaborating with people, understanding different things, and reading between the lines. I think that was the first time I'd ever done something like that and really had a say in a body of works. So, I wholeheartedly thank Bunker Hill because I learned so much, and my teachers were so patient with us. I have a lot of questions, and I am a very inquisitive person, so the care that I got was amazing.
I used to work as a sales rep while I was in Boston with a major dog food company. It helped me pay for my master's degree. When I first told my boss back in Boston that I wanted to get a degree in communications and journalism, he said, "Oh, that's kind of off from what you're doing now and your business career path." In my opinion, not really—my job in sales was to analyze data, and then tell a story. That story was supposed to compel the customer to buy or to sway away. Journalism wasn't too far off from what I had already done, and I feel like that has also helped my skills.
My family, again, is very supportive, but when I told them that I wanted to start reporting, they were like, "You're going to give up your job?" It took a while for them to get on board with the fact that I was transitioning to journalism, especially when I was making more money in the business field. I also had a degree in business. I'm not going to lie—I'm going to be completely honest: most of the people in my life didn't really take me as a reporter until the tail end once I got my master's and started working with The Vallejo Times-Herald. I think that that was the thing that shut everyone up, because no one wanted to accept the fact that I was serious about changing my entire way from being a consultant to reporting when they thought I was making so much money as it was.
Once I left Boston, it was very difficult for me to get another better-paying job in writing. I kept looking, I kept searching and even trying to just do business jobs within the sports world. It was a lot, and it was very difficult, so I started applying back to business jobs because I at least knew I needed to change from the previous job I was at. I got a business consultant job out in California, which pays very well, but journalism is where my heart is. I got my journalism degree from Syracuse University online and am making that switch to journalism. Now, there is more to do. I know that there are people who are reporters who also still do communications or digital communications jobs. I have challenged myself with maybe one day being on camera.
With my degree from Syracuse, I learned about different types of journalism and that journalism is not just one way. It can also be behind the camera, and it can also be in front of the camera. There are so many roles that I'm open to doing, whether it's communications work speaking for business, writing, being behind the camera, being in front of the camera—there are all of those things, and I'm pushing myself to explore all of those different avenues to figure out what exactly I'm the most passionate about.
A Typical Day
Something that I've been allowed to do in this role is to look at and research the town, especially as a newcomer to Vallejo. That research involves me gathering my own data, going into Vallejo, seeing different things, visiting, and popping into different businesses to ask questions. I think that's amazing. I definitely take notes. Let's say someone has been in Vallejo for 50 years—I want to know what Vallejo looked like 10 years ago in their opinion. I want to know what it looked like 20 years ago for them. I want to know what it looked like when they were growing up. For me right now, getting to know this city as a reporter is almost like dating. I've lived now in four cities. You can fall in love with a city, and you can fall in hate with a city—it really just depends. With Vallejo, it's a little rough around the edges, but once you get to know its heart, you learn so much and can begin to possibly fall in love with it. Right now, I've pretty much been getting to know the business owners, the advocates, the people, the sports teams, the coaches. It's amazing because you get to know all of these things. That has been my day-to-day, just taking notes and gathering my own data.
I have been given stories, and then also I've looked for them. For example, I once went to a local magic fest. I spent time meeting so many businesses there because our paper was still kind of unsure what the festival was before I went. Basically, it was a bunch of vendors selling their products—there were candles vendors sold that make you feel a way, drinks with dry ice making them steam, and also even actual vendors who practice witchcraft. I asked some of them, "What do you think your business has to do with magic?" I found businesses there that I've gone on to write about for articles of my own. I definitely think that it's important to go in looking for the stories, understanding where there is a story, asking the right questions to figure out if there's a story. At times, you can definitely find a story within a story.
I have three articles that I'm working on right now. I didn't really need to do much research for one of the articles, just because I've already done an article on the same subject. They actually came back to me because they loved my last article and they trust me. I made my list of questions, scheduled the interview, and then I pretty much got the meat and the heart of what she said. During that interview, I just told my subject, "Babble on, I'm here to listen!" Later on today, I will finish that particular piece. There was another person who reached out about an article for their friend who started a bakery. I did research on the person, their friend, and what they have going on, and then I reached out to them to say, "Hey, I would love to do a piece on you. I think what you're doing is amazing." They are from Vallejo, but their bakery will be in Oakland. My third story is about a play that's going to be in held in Vallejo. For that piece, I did my research on the play and the production company that's putting it on. It's a lot of research, but that research really bridges your questions. It helps you know what you're talking about during your interview. For the person opening that baker, for instance, I might say something like, "This is a passion project for you. You've been baking now for 10 years. Why start a bakery now?" You have to really understand the person that you're talking to, what their motivations are. They're still going to tell you either way, but it's always good to still know as much as possible beforehand.
In terms of prerequisites you may need to be a journalist, being nosy is one, most definitely. You have to be inquisitive, you have to want to know. I was with my cousins about three months ago using one of their Netflix accounts, and I was like, "Let's see what they watch behind closed doors." My other cousin said, "You are so nosy!" But, you know, I love it—I love asking questions. I just want to know, even if I'm not going do anything with the information I learn sometimes. I definitely think being curious, wanting to know more and questioning status quo is a big thing if you want to be a reporter.
Having writing skills definitely matters a lot, too. Learning the Associated Press (AP) style guidelines, which are the standard style guidelines for journalists, was very big for me. In business writing, I believe we followed Modern Language Association (MLA) guidelines, so AP style was completely different for me. When I first started with Back Sports Page, I was horrible. My editor was like, "Um, I don't think you finished this sentence." I was horrible, but I learned to really think about what I'm saying and writing. What message do I truly want to convey? Even now, I use bullet points to outline my articles, just because I want to make sure that I know what I'm saying. That's something that I honestly think more journalists should do. If you want to be a journalist, a question I've now learned to ask at the end of an interview is, "What do you really want to bring across in this article?" Asking that question helps me make sure the subject is happy and the reader understands where they're coming from.
When it comes to doing research for an article, I don't want to make it seem like it's school, but it's a bit like that. Then again, research now also can mean looking things up on Tik Tok or going to a person's Instagram, seeing what they like, seeing what they post. It really helps because you get to know that person you're interviewing on a different level, and you already have an idea going in of what that person might want you to see. When we're talking during the interview, they're like, "Oh, she did their research."
The Workplace
My workplace obviously is in the city. I do often work remotely, however, and I'll cover stories and do interviews by phone. I feel like when I'm there in the city, I love painting a perfect picture. The way that I am feeling, I want my reader to feel.
When it comes to deadlines, that deadline depends on whether the story is going to hit the paper or go online first. I actually just got a text about a deadline. I have to get something out by tomorrow morning, which is definitely fine. That's why I make sure that I outline first, ask very pointed questions, and also ask the interviewee at the end, "What do you want to talk about?" Because if that answer is something different, then there are more questions to ask. But you definitely need to know deadlines are no joke.
On Saturdays, we definitely have the strictest timeline. I'll tend to go to The Herald-Times' office after I'm done covering whatever event I'm covering, just because it does help to be there to write, and my editor is right there. It definitely helps to have the camaraderie and collaboration. I recently wrote about a garden and food pantry, and I needed to name a certain fruit, which I can't remember at this moment. Anyway, I didn't know if the word was plural, so I just asked my editor, "Is this plural or not?" It genuinely helps, and I would tell anybody who wants to be a reporter in the reporter world—I understand you don't want people encouraging your story. You have your vision, but that collaboration sometimes needs to happen. It helps you understand and helps you convey the story.
There are a few pieces of technology that help me do my job. I just bought a MacBook, a new one that I'm still confused about how to use it! But I hear that I can push a button and then my interview transcripts will get transferred. Even a portable phone charger is important. Oh, my goodness, you may think you have all the memory space and battery in the world on your phone, but it's different when you're covering an event and so many things are happening. I take pictures and videos just because I like to paint a really vivid picture. I want to remember what foods were in the garden, for example, going back to that recent story I worked on. Other times, even though I didn't get to talk to a business owner while I was at a market or another event, I still want to know details, like "Okay, this company had these candles, this one had lanterns." I want to still put that in the article. I want to make sure I have the correct spelling and can remember exactly what they had on their table. I love to paint that vivid picture and make sure I still highlight people, even if they're not the focal point of the article.
So, certain pieces of technology like portable phone charger help with that. If I'm in a fast-paced environment, I'll capture audio on my phone. If I have a little space, however, I do have a Sony camera that I may use. It just depends on what the occasion calls for and whether the event is going to be fast-paced or not. Sometimes you don't know, but you figure it out.
Myths of the Profession
You still have to Google things. I went to go cover a roller derby event, but I knew nothing about the sport. I had already done my research on how it's played, but until I saw it, I was like, "Oh, that's a whole other thing!" So, you have to learn the subject. You ask questions, you research and you ask questions. Often, researching can be the same as asking questions.
Advice for someone thinking about going into the field
I would say to anyone considering the field that you can't be shy. You can't be shy. You can't have impostor syndrome. You have to go in there, and you have to do your research, do your due diligence, understand who you are—and kill it, you know.
I say it's important not to be shy, because you never know who you're going to have to ask a question to. Sometimes you have to put yourself out there, even if you don't want to. For me, I'm still debating whether I should do on-camera reporting. You have to make those steps, even if they're baby steps, even if they're micro, and still get out there, be comfortable within yourself and figure it out.
Advice to My Younger Self
Don't be afraid, and get out of your hometown. I definitely believe that there needs to be more Black and brown reporters. Society needs to hear our voices. So, get out there and tell it. Don't be shy.
Categories:
Communications and Media
Newspaper Reporter
"Each other's lives are our best textbooks."– Gloria Steinem
Sign Up