Categories:
Communications and Media
Marketing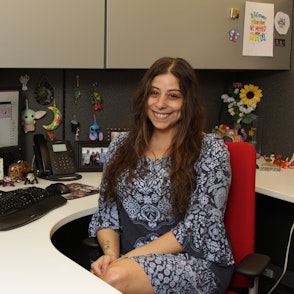 Carly Chacon
Job Title
Events and Social Media Specialist
Education
Salve Regina University – B.A., Marketing, 2011-2015
Salve Regina University – M.B.A, 2015-2016
"We do metrology here at Mahr, which is the science of measurement. Nobody knows what metrology is. People are usually like, "Oh, the weather." I have to say, "No, we're not meteorologists." "
The Profession
I'm part of the marketing team at Mahr, Inc. I specialize in trade shows and events. We're a manufacturing company, so trade shows are a really important part of the business when we get all these people in one place at one time and show our equipment. I know a lot of things are digital nowadays, but I think in-person events are still really important.
Trade shows are kind of my baby. If it's a bigger event, I will travel on-site and be there from start to finish. I'm usually the first one in and the last one out. Before we actually get to the trade show, there's so much planning that goes into it. I do the setup and the teardown. When I'm at the show, I'm the booth manager. I'm not so much on the sales side of things. I'm not the person who's going to be talking technical specs and stuff like that with the customers who visit. But I'll greet people, and I'll help take leads. I make sure that the booth is looking good and that my staff is doing what they're supposed to be doing. I make sure everyone gets lunch. And if it's slow, I'll cut people.
I just make sure everything's running smoothly during setup and teardown, more so during setup. If we run into any issues, I'm the one who solves the problem, whether it involves talking to the trade show management to figure out a solution, or going out to get more supplies.
It's exhausting, but it's definitely rewarding. It's cool to see it in the initial stages when it's just a piece of paper with a drawing of what the booth is going to look like, and what products we're going to show. And then over time, it just comes to life. When you get to the convention center, it's a mess. Everything's upside down. There are crates everywhere, and the carpets are not down yet. There are forklifts you're trying to dodge, and it's just pure chaos. But over the course of setup during the week, it all just comes to life. And the day the show opens, it's truly incredible because it looks nothing like it looked even the night before. It's showtime, and we're ready.
Depending on the year, we usually do somewhere between three to five trade shows. We do a lot of smaller events too, like distributor-type events, open houses, and tabletop events. I don't usually go to all of those. I assess the salespeople and supply them with whatever they need for those events. Some of our big trade shows are every year, some are every other year. We just had our big, big manufacturing show back in September of last year. That one's every other year.
We have a pretty small marketing team here and we work together on a lot of things. In addition to running social media for us, I also work on editing brochures and all the literature that goes out. That means I work closely with sales and management, as well.
I manage all our social media accounts. I work with my team to brainstorm ideas, but essentially I'm just trying to build our page and get our salespeople to use it because that's how it's going to grow. Our global headquarters are in Germany, but we work closely with the German marketing team as well. I know they're currently trying to get our social media pages more aligned content-wise.
We do a lot of articles with magazines, so I always make sure to post those, as well as any webinars we do. And I try to throw in some fun stuff, like Throwback Thursday and employee highlights, just so people can see the more human side of the company, and not just boring manufacturing machines and things like that.
The Hardest Parts
There are definitely a million things to juggle at any given time, especially with the trade shows. One of the most challenging things with trade shows specifically is that there are hard deadlines. It's not like an ad that you have to submit where you can say, "Oh, can I get it to you tomorrow or next week?" And the answer might be, "Yeah, no problem. It's not going to print for a couple of weeks."
A trade show is an event, and we have hard deadlines. You can't play with that. There's no wiggle room. Sometimes it's challenging to make sure we get a product on time or make sure it's available. Sometimes when things ship from Germany, they can get held up in customs. It can be challenging because some of these things are out of everyone's control. Even if we're following all the right steps, there still can be a holdup. And that can be hard sometimes.
But my first question is always, "Okay, what's our plan B, just in case?" Because in the back of my mind, if something does happen, I want to have a backup plan so that we're not scrambling at the last minute, being like, "What are we going to do now?" I want to be able to say, "We already have a backup plan, so we're good."
I love working with different people, but sometimes it is challenging to coordinate with a lot of different people and opinions. It can be like herding cats, you know what I mean? But I just keep emailing them until they get back to me. Or I'll go knock on their door. I'm not shy!
The Best Parts
I am sure you can tell what I like talking about most, but the trade shows are definitely my favorite part. I like the change of scenery. I like to keep busy. They're nonstop, and it's such a distraction, but in a great way. They keep my mind busy and allow me to see new places. It's hard work, it's long days, but it's definitely rewarding.
One of my favorite parts about them is that I've been able to build relationships and friendships with my coworkers on a different level from what we would get at the water cooler or making coffee or whatever. Our salespeople are all over the country, and they're not in Providence very often. So I'm grateful that I get to know these people. It's not just a name and an email address that I communicate with. They know me, and I know them. I'm really grateful for that, because we have a really great team of people here, both in Providence and outside of Providence. It's nice to connect with people on a different level.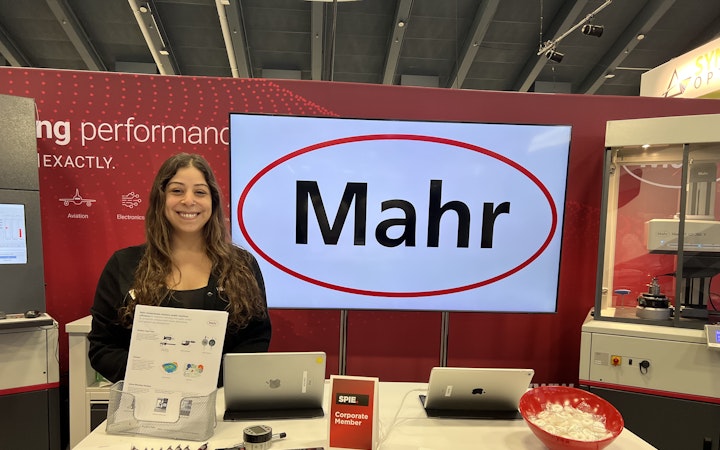 How I Got Here
I was born in Norwalk, Connecticut, which is near New York City, like Stamford. But I grew up in a place called The Valley. It's a collection of some really small towns that people usually don't know about. I grew up in a town called Seymour. People usually have no idea where that is, so we just say "The Valley." It's not too far from the New Haven/Waterbury area. It's a very woodsy area and kind of quiet. My house was one of four houses on a dead-end street off of another dead-end street. It was kind of the middle of nowhere, but it was nice. Definitely different from where I'm living now in Providence.
I had a wonderful childhood, with two amazing parents, and one brother who I'm super close with. I always loved school. I went to a Catholic high school because my parents were like, "We know you're gonna go to college," and it was more of a college prep school. I was fortunate that my parents were able to make it happen and help me with that. I graduated from this high school, which was called Notre Dame in Fairfield, Connecticut.
Then I started looking into colleges. I didn't really know exactly what I wanted to do, but I knew I didn't want to stay at home. I was ready to venture out and start my own life somewhere else and meet people. I applied to a bunch of schools and I started looking at different options. I had one friend who was a year older than me, and she went to the University of Scranton, in Pennsylvania. I really wanted to go there because she went there and I would know someone there. I had also spent a weekend with her and it was fun. I kind of had my heart set on that.
Then I toured Salve Regina's campus. I don't know if you've ever been to Newport, Rhode Island, or if you've ever seen the Salve campus, but it's absolutely beautiful. It's on the ocean. I mean, it's breathtaking. There are the Newport mansions, like the Vanderbilt mansion, right on Salve's campus. That's what all the buildings look like. It's gorgeous. You sit in class and you're looking out at the water. It was beautiful.
I had had my heart set on Scranton, but that was literally in the middle of nowhere. I'll never forget my mom saying, "Where do you want to live for the next four years? Do you want to live in Scranton, Pennsylvania, or do you want to live in Newport, Rhode Island?" And I was like, "Well, that's kind of a no-brainer!"
That was how I ended up at Salve Regina University. And I loved it. It was two hours from where my family was in Connecticut, so it was easy enough to go home for long weekends or have my family come to visit. But it was far enough away that I could have my own stuff going on. I didn't have to stay at home. I spent four wonderful years there.
I didn't really know what I wanted to do when I started. But as a freshman, I was put in a random course that was part of our freshman core classes. It was like an orientation class, but with randomly assigned professors and classmates. My group had this professor whose name was Thomas Flanagan. He was just the coolest guy I'd ever met in my life. I never had a grandfather, and when I met this guy I just I wished that he was my grandfather. He loved Disney and wore a different Mickey Mouse tie every day. He was just incredible.
He was also part of the business faculty. And because I was so inspired by him, I wanted to take more courses with this guy. He was just so awesome. That's how I ended up on the business side of things. He was my advisor during freshman year, as well. And so I talked to him saying, "I don't really know what I want to do." And he said, "Well, there are all these different parts of the business. Are you more numbers-like? Do you want to do more finance and accounting? I said, "Not so much. I like more of the creative side of things." Then he said, "Well, why don't you dabble in some marketing classes and see what happens?" That was how I ended up in marketing, and it was awesome. I got to take more classes with him, but all my professors were wonderful. I think it was definitely a good choice.
My parents were totally supportive of my choices. They would have supported me no matter what, but they were always super proud. My dad came from Costa Rica, so he worked really hard to get where he is today. He always wanted a better life for me and my brother. And to this day, he's so supportive of everything we do. My mom was as well.
I graduated with my bachelor's degree in 2015. I had been doing an accelerated master's program as well, so I stayed in Newport and worked as a waitress downtown while completing the master's program. When I completed it in May 2016, I took the summer off. I still worked in the restaurant, but I wanted to enjoy my summer. In the fall I started putting feelers out and applying for jobs, trying to see what my options were at that point.
I had two degrees, which was awesome. But at the same time, it wasn't really that great, because I had no experience and everyone wanted experience. How do you get experience if nobody is willing to give you a chance? There were a lot of jobs that I just wasn't interested in. I didn't want to do cold calling—that's not what I went to school for. So I kept searching.
One of my aunts was for many years a director of events for U.S. Surgical, which is what it was called back in the day. It has changed hands about three or four times, and now it's called Medtronic. My dad used to work for that company, as well. It's a big medical company. My aunt worked there for about 20 years, and she moved all the way up. She was a director of trade shows and events. She traveled the world and loved her job. It was high stress and exhausting, but she loved it. I always thought that was cool, that it would be awesome to do something like that.
I started looking for an event planning job and came across this one at Mahr. It required five to seven years of experience, and I had zero. But the person who was in charge of marketing at the time saw my resume, and she had to meet me. She said she thought it was ballsy of me to even apply for this job because of the five to seven years experience factor. She told me, "I could see myself doing the same thing 30 or 40 years ago, so I just had to meet you."
I remember coming in to interview. I was here for about four hours and met with her and HR. Then she took me around and had me meet the marketing team members and some of the product management people. I remember after that interview I felt really good. It just seemed like a cool place, and I thought I would fit in and do well.
As it turned out, I didn't get the job. Everyone liked me, but they were a little hesitant because of my lack of experience. But the HR person held on to my resume because the Director of Marketing wanted her to hold on to it. They weren't closing the job, but they weren't willing to give it to me at that time. Instead, they wanted to keep an eye out to see what else was out there. So I kept checking back periodically.
Eventually, they came back to me and said, "We're not going to give you the job, but we need a temporary person to help with marketing. We don't want you to get your hopes up because this is probably going to be an eight-week temporary thing, with a solid end date." At that point, I didn't have anything else lined up, so I thought I might as well give it a shot, get some experience, and meet some people in the industry. So I came in, and I started working here.
About two weeks after I started, my life got a little crazy. My mom was diagnosed with cancer, and it wasn't good. Even now, years later, it's still hard to talk about. I didn't know what to do. At that point, I was going to quit my job here. I had still been waitressing at the time, too, and I quit that job. I remember calling my boss at Mahr and saying, "Listen, this is what's going on. I need to be in Connecticut. I'm sorry, I was really excited about this, but at home is where I need to be." And she said no. She wouldn't let me quit. She said, "We'll work with you, whatever you have to do." My job was part-time, at the time, so she said, "Let's work something out so that maybe you're in the office one day a week, and then you can take your computer to the hospital or wherever and work remotely the rest of the time. And you can just keep me in the loop." I thought, Alright, I guess that's better than nothing. And that was what I did.
We found out about my mom on the day after Christmas, 2016. I had just started here around the beginning of December. I remember when I got the job, my mom was so excited. She was on vacation at the time. When I called her, she was down in Florida. She was so thrilled. Unfortunately, she wasn't able to stick around to be a part of my journey here.
My mom ended up passing away in March. Around that time, my boss left the company. When I came back after bereavement, the higher-ups here told me that I could come on the team full-time. They knew I had a lot of stuff to do at the time, but they were like, "We want you as a full-time permanent employee, whenever you're ready to take that step." I was supposed to be here only for eight weeks, and here I am, five years later.
In terms of prerequisites for this field, I think it said it required a marketing degree or something similar on the job posting when I applied. But it's one of those things where, if somebody has been working in the industry and has the experience, but they don't necessarily have a degree, I don't think they would be automatically turned away. I think there would be a conversation to get a feel for the person. I didn't meet a big part of the job description, and they still gave me a shot.
I think the people at Mahr liked me because I had just gotten out of college, and I was young, motivated, and excited. I'm an extrovert. I like talking to people. Throw me in any group of people and I'd probably be fine. I think we had really good conversations that first time I was here. I met with so many different people. I think a lot of that was them wanting to see if I would be a good fit, personality-wise, and be able to work with all these different people. I think I definitely showed them right from the beginning that I was capable.
Although people always want experience, I think in some situations, it's kind of nice to have somebody who doesn't have so much experience, because you can mold them into whatever you need. You can teach them the way they should do things.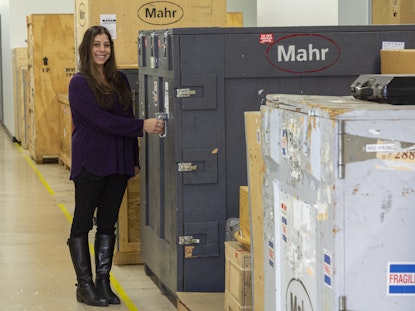 A Typical Day
My job varies depending on the time of year and what's going on. For example, next week we leave for San Francisco because we have two back-to-back shows coming up. One is from January 31 to February 2, and the next one is the following week. Yesterday, I had my truck come in the morning to pick up our shipment for the first show. I got here nice and early before the truck driver, and then I had to run downstairs and make sure everything was good to and labeled properly. I always watch the guys load the truck just to make sure nothing drops.
After that, I ran back up here to where my desk is and started my day. I am on my computer a lot doing emails and meetings, etc. I work with a lot of different people here, which is nice. Most of us are here in the office, except for the sales guys who are all over the country. But product management's here. I'm constantly asking them questions or working with the applications guys on packing stuff up for the show.
The last trade show I did is called IMTS—the International Manufacturing Technology Show. It's the biggest manufacturing show in North America. It's ginormous. It's held at McCormick Place in Chicago, which is one of the biggest convention centers in the country. They usually fill the whole convention center with about 90,000 attendees. Pre-COVID it was probably even more. We have a really, really big booth there, bigger than all of our other events. Usually, our booths are 20x10 or 20x20. For this show, we have a 50x40 booth.
We had a big group of us there for setup and had been there for days. A company we hired was setting up the back wall and the structure for the booth. The last piece was a brand new, 86-inch Smart TV monitor we had just bought. We had ordered it and they shipped it to the show. We got it up on the wall, and it looked great—we didn't see anything wrong with it. But we powered it on and there was a huge crack in the screen. I was like, Oh my God! It's this giant TV that's supposed to be eye-catching. Germany had sent us a brand new, fancy video to play on it, and it was cracked. I just wanted to cry. I think all of us felt that way. We were not very happy. It was infuriating.
We hadn't dropped it. I don't know what happened. TVs nowadays are so thin and fragile. It was already past our warranty period, so we couldn't just take it to BestBuy and do an easy swap. We had a big space on the wall that was meant for a big TV, and we didn't have very many options about what to do with that space. Two of my guys ended up calling around to find TVs. I started talking to our labor and some of the other people I knew at the convention center, just trying to weigh our options because we didn't have cars. We were staying in the city and took Uber everywhere. It was not an ideal situation. And not only that, but an 86-inch TV is so big, you can't just fit it in a normal car. You need a big truck. Two of my guys ended up renting a truck from Home Depot, and there was a Best Buy in the same area. They grabbed the TV and came back. All of us went outside and very carefully brought it inside. Luckily it powered on with no problem.
Here at the Mahr offices, we have a new demo room downstairs that is looking really good. We're in the process of getting it up and running. The plan is, when that TV is not being used at a show or other event, we'll put it down in the demo room. We'll find a purpose for it.
In terms of other tasks, we have weekly team meetings with Germany, just to touch base and make sure we're all on the same page because the ideas and goals come from them at the beginning for things like brochures and literature, and product launches.
I do a lot of editing, as well. Right now we're working on a new catalog to be released at some point this year. Germany has the lead on that project, but I'm editing the chapters right now and sending them back to the German team. I also work in HubSpot and we have iContact and Salesforce too. I do the layouts for the email newsletters we send out, whether it's for trade shows or product announcements.
The Workplace
The people here are great. Some of my coworkers are more family than coworkers at this point. I spend more time with them than anybody else.
My team is very involved in the employee events we do. We help out the HR department with those, just to keep employees engaged. Our dress code is business casual, which I think is fair. We have Casual Fridays where we get to wear jeans, which, again, I think is fair. Most of us work in the office, but I would say there's a work-life balance here.
They're understanding here, and have been from the beginning. Think about what I went through as a new employee, only two weeks in, calling my boss to quit. She said, "No, we will work with you." You know what I mean? Obviously, that was an extreme situation, but we're all human, and sometimes we have no control over things. They're very understanding and fair when it comes to life and stuff like that.
Myths of the Profession
One myth isn't specifically about my job, but I think it's funny. We do metrology here at Mahr, which is the science of measurement. Nobody knows what metrology is. People are usually like, "Oh, the weather." I have to say, "No, we're not meteorologists." It sounds similar, but we're metrologists.
Another myth is that everything is going to be virtual and trade shows are dying. But that manufacturing show we were just at in September—I was blown away by how many people were there. I think people are really itching to get back out, especially after the whole COVID situation, and not being able to meet in person and do these things for so long. I don't think they're gonna die off as soon as some people think.
Advice for someone thinking about going into the field
I would say when it comes to trade shows, there's always a solution. Just stay calm. It's so easy to get overwhelmed or stressed out. We're not performing brain surgery. It's not life or death. It'll be okay. There's always a solution, so just stay calm.
Value and work with your team members, because in work like this, you can't do it alone. You have to collaborate with other people. You might be the lead on a project, but don't try to do it all yourself. You have to bring in other people because there are so many different moving parts.
In terms of general advice, I would say, don't give up. Keep trying. Like I talked about before, everybody wants to experience, but sometimes you don't have it, and you just have to keep trying because you will find someone who's gonna give you a chance. I truly believe that. Don't get discouraged.
Nowadays, I feel like the job market is so different with things moving online. It kind of sucks because you take the whole personal aspect out of the picture. But I truly think, if you keep putting yourself out there, someone will call you back and you'll be able to shine your light and show them that they need you, and that you would be a valuable asset to their team.
Advice to My Younger Self
There will be things in life that you don't expect. My younger self thought I would have it all figured out by now. I thought I'd be married with kids right now, owning a house, and all that. But that's just not reality. Life is gonna throw you curveballs, heartache, and loss, but just keep your head up. Keep on track. That's all we can really do. Don't give up. Just keep moving.
Categories:
Communications and Media
Marketing
"Each other's lives are our best textbooks."– Gloria Steinem
Sign Up