Categories:
Science
Zoology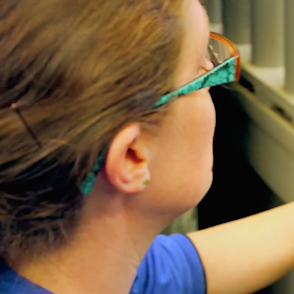 Amanda Markley
Company
Roger Williams Park Zoo
Education
Long Island University, Southhampton College – B.S., Psychological biology with a concentration in animal behavior
"It's not the most glamorous job...but it's probably the coolest!"
The Profession
Zookeepers take care of animals but don't just feed and clean up after them. Zookeepers also train them and monitor the animals' psychological well-being and develop a relationship with their animals of respect and trust so that if we have to do a presentation for the public or a medical procedure with them, they'll cooperate. Our job also includes educating the public about these animals that they wouldn't normally see on a day-to-day basis. These animals are ambassadors for their species.
I work with udads, red river hogs, the West African crowned crane, and African spur side tortoises. But my most favorite animals I've ever worked with are the red river hogs that we have here at the zoo. They're so funny and so smart and each one has its own distinct personality. They are by far my favorite animals of all time. They're a type of African pig, a nocturnal species with big ears, a big nose, and big whiskers. They're really amazing animals.
The Hardest Parts
This is a very physical job. You work all year round in all kinds of weather, shoveling snow in the winter and leaves in the fall. It can be really tiring. The other hard part is when an animal is old or sick and it dies -- that can be very emotional and difficult to deal with sometimes because you love your animals and give them the best life that you can.
The Best Parts
My favorite part of my job is when you are teaching animal behavior and they finally get it. You can see that little light bulb goes on in their brain and they're like AHAH! and that's so exciting because you've taken so much time to build that relationship with the animal and teach it different behaviors, and you have to be patient. You're so proud of the animal for learning it and so excited that you were successful. Also, when your animals are sweet to you it just makes your day. When I'm having a bad day I'll go snuggle with Blinky the West African crowned crane and I'll just feel so much better.
How I Got Here
I decided when I was a kid that I wanted to be a zookeeper. I always loved animals so I went to Southampton College of Long Island University and studied psychological biology with a concentration in animal behavior.
A Typical Day
I get in about 8 a.m. and check all the animals, get their breakfast, and if they're on medication, get that ready. We let the animals outside, clean up their bedtime stalls and their exhibits. One big part of our job is making sure the exhibits look nice for the public. I'll do training sessions throughout the day with the animals. It really depends on the day. It does change seasonally. In the summer I do public feeds with some of the animals.
Advice for someone thinking about going into the field
Get as much experience volunteering at your local animal sanctuary or any place that you can get some hands-on experience. This is a very competitive field and there aren't a lot of jobs available.
You need a bachelor's degree in a biology-related area. Psychology is very important, too. It helps you understand behavior. Be aware that you won't be rich being a zookeeper, but you'll love your job so it makes it all worthwhile.
Categories:
Science
Zoology
"Each other's lives are our best textbooks."

– Gloria Steinem
Sign Up