March 08, 2023
The U.S. Department of Education has named Wingspans as a finalist in the Future Finders Challenge
The U.S. Department of Education has named Wingspans as a finalist in the Future Finder Challenge, a $1 million challenge to reimagine career navigation for adult learners. This is the first time the Department has launched a challenge to advance the education technology space for adult learners. [1] As a finalist, Wingspans will receive $60,000 and advance to the Stage 2 virtual accelerator.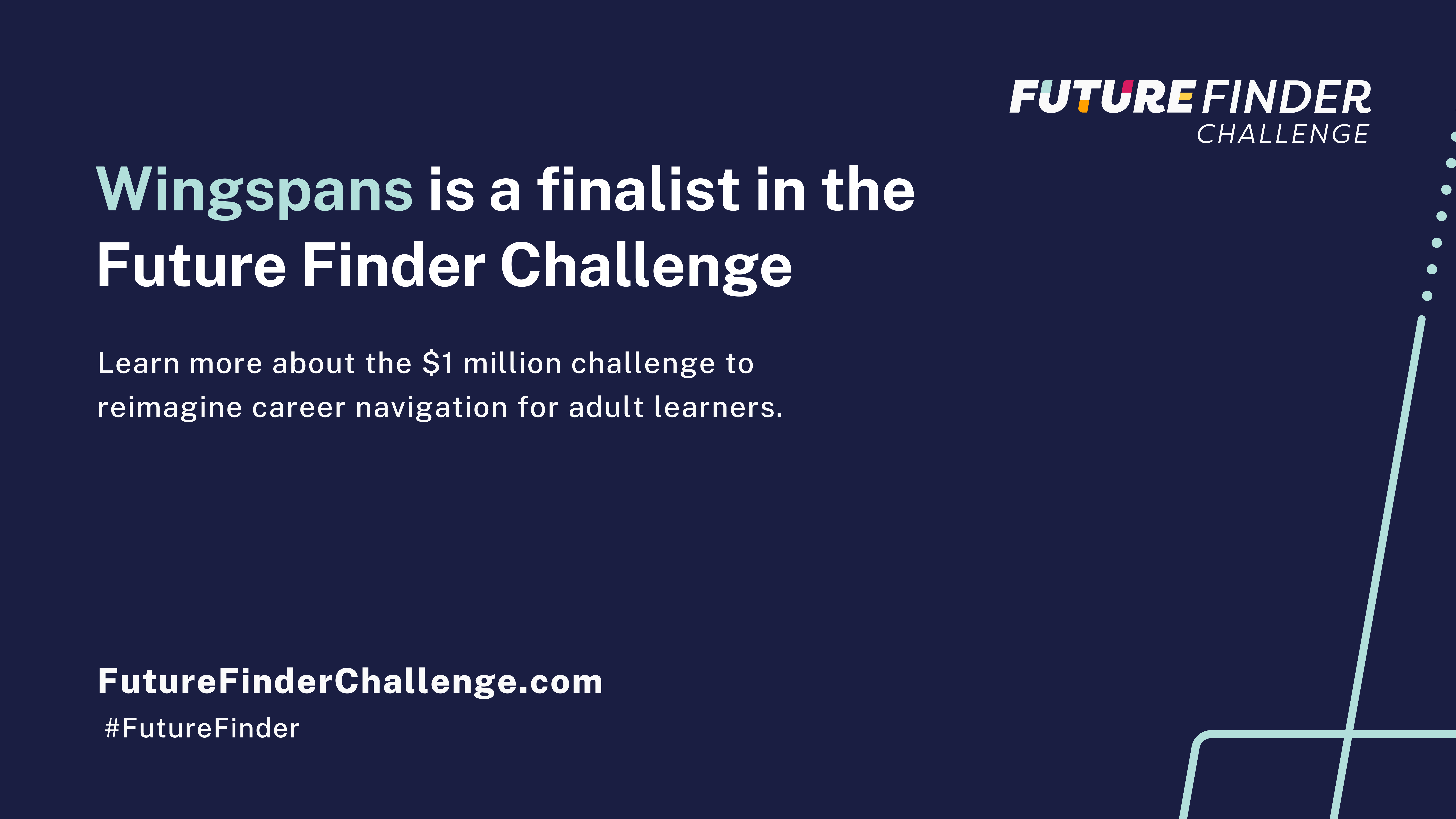 The Future Finder Challenge brings collaboration and innovation into the adult education environment through education technology. This challenge supports the Secretary's "Raise the Bar: Lead the World" priority to ensure that every student has a pathway to college and career. [2]
Wingspans' solution, a platform that leverages storytelling and AI for self-discovery, career exploration, and lifelong success, is designed for users to find inspiration from people with similar backgrounds and identify pathways into quality careers.
The challenge received 76 submissions in response to the Office of Career, Technical, and Adult Education's (OCTAE) invitation to build digital career navigation tools that better support adult learners. Entrant teams — including minority-, women-, Veteran-, LGBTQ+-, and Native American-owned organizations from 29 states — submitted prototypes ranging from skills assessment and career matching to mentor access and job application tools. To evaluate submissions against the Stage 1 criteria, the challenge brought together multidisciplinary panels of reviewers and judges with expertise in adult education, ed-tech, career navigation, industry, and inclusion and accessibility.
The six-month virtual accelerator will commence with an in-person boot camp. Finalists will then have access to virtual resources, webinars, and mentorship from subject matter experts across topics such as adult education, design research, product design, storytelling, and sustainability. At the end of the accelerator, finalists will submit their market-ready tools and accompanying proposals, and present at a live demo day in fall 2023. A judging panel will review the submissions against the Stage 2 criteria and recommend a slate of winners to the Department. One grand-prize winner will receive $500,000, and up to two runners-up will receive a share of at least $250,000.
Beyond Stage 2, the challenge will support winners into 2024 as they deploy their solutions. To help promote further innovation, challenge resources, and videos will remain available to all entrants as well as to those who did not participate in the challenge. Innovators are encouraged to continue using these resources to develop new digital tools that reimagine career navigation for adult learners.
To learn more, visit FutureFinderChallenge.com and subscribe to the challenge newsletter.