Categories:
Science
Environmental Science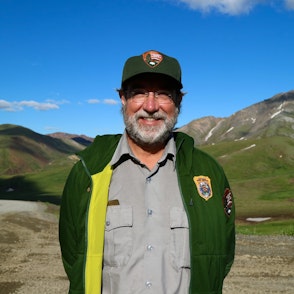 David Alexander
Company
U.S. National Park Service
Location
Denali National Park and Preserve, Alaska
Education
Rutgers University – B.A., Business Management, 1982-1986
Monclair State University – M.A., Environmental Studies, 2010
"A few days ago, while we were hiking, I saw a bear. He was far away, and I was watching to see where he was headed. He was walking across a hillside when he saw a big patch of snow. He could have gone down the hill, but he headed for the snow. He jumped on and slid down on his stomach, his arms and legs splayed out — spread eagle. Then he got up and continued on his way. He did it just for fun. Nothing much beats seeing that. "
The Profession
A few days ago, while we were hiking, I saw a bear. He was far away, and I was watching to see where he was headed. He was walking across a hillside when he saw a big patch of snow. He could have gone down the hill, but he headed for the snow. He jumped on and slid down on his stomach, his arms and legs splayed out — spread eagle. Then he got up and continued on his way. He did it just for fun. Nothing much beats seeing that.
I'm a general ranger. There are many aspects to my job. I do emergency medical response, search and rescue for people who get lost. Some of it is wildlife management, educating park visitors on how to act around wildlife. The job is a mix of things but a lot of it is making sure that people follow the rules. I'm also trained as an EMT. There's one 90-mile dirt road into Denali Park, which is the size of Massachusetts. I patrol the last 50 miles of the road. I'm the only medical personnel on duty out here. So if something happens, I get called. Sometimes it's someone sick on the bus or someone gets a heart attack. A few weeks ago, a cyclist had a hard fall off a bike. I had to call for him to be helicoptered out of the park.
Some of my work is maintenance, hammering something in, or cutting some brush. But a lot of it is driving around in my pickup truck on the dirt road and being alert to what is happening. One time, I got a report that there was a bear eating something near a campground. I put up signs for closure, to keep hikers and the people at the camp away. Then I monitored the scene. The campers were close to the bear, so I told them 'Hey, don't go in that direction. A bear is eating something.' They asked me, 'Should I be scared? And I said, 'No. Not now. He's got something to eat.' One day the bear was gone but I saw the remains of his kill — he had eaten a smaller bear. All that was left was a patch of fur and a few picked bones. It's wild out here, but generally, bears are not a problem. It's their habitat. I just have to ensure that park visitors respect that. I work in one of the most beautiful places on earth. In the course of my day, I look around and see something spectacular — like that bear sliding down that patch of snow.
To be in this job you need a college degree. Some experience is helpful. There's the SCA (Student Conservation Association) program for college students, where you can work in parks in the summer. It's a good way to start.
I'm a seasonal employee, I just work summers, not in winter. Seasonal work attracts retired folks and people in second careers, or young people who want the freedom to travel in winter. Many of the jobs in the Park Service are seasonal. Northern parks get lots of visitors during summers and have just a few visitors in the winter. To take up the slack, the parks hire a bunch of summer-seasonal employees. The length of the season varies by the park, but in Denali I work from May through September. I have the luxury of being semi-retired, and I spend the rest of the year in my house near the park entrance, enjoying the Alaskan winter: cross-country skiing and fat-tire biking on the hundreds of miles of dog-sledding trails that leave from the kennels in our neighborhood. I live with my partner, who also works for the park. We try to get outside every day, but when it gets below minus 20, it isn't really much fun. When it's below minus 30, the children at the local school don't go outside for recess.
I spent a few winters in Hawaii. My partner, who now works full time at the park, had also worked as a seasonal ranger. But in the winters she'd work as an educational guide on a whale-watching boat in Maui. So we'd live there in winter. This job lends itself to that. Not being tied down all year long to a single job. Many seasonal rangers spend winters traveling on the cheap or work a second seasonal job — some of them in Antarctica, which has opposite summers from Alaska.
It is typical for younger folks who do seasonal work, to either transition into a full-time career with the Park Service, where they get all of the benefits of being a government employee; or after a few summers, to get tired of moving around and start a more conventional full-time job. That being said, a coworker of mine is in her 30th summer season. It can be a struggle working seasonally, but she values the time off and ability to pursue other interests and is willing to give up stability and a retirement plan for that. For me, this is a second career and I'll keep at it until it stops being fun or I turn 70 — whichever comes first.
The Hardest Parts
Definitely responding to medical incidents. This is a remote place. The closest hospital is in Fairbanks and to drive there is six or seven hours. If it's a bad injury, they will fly you to Anchorage or even Seattle. It's a tough place to be injured or sick. What I can do medically is limited so my job is to get them out of the park as fast as possible.
The Best Parts
I really like animals. Just watching bears during the course of my day—it's incredible. A mother and a baby porcupine have been visiting my cabin the last few nights. It's part of their routine. They are as cute as can be, those little porcupines. I want to just go out there and pet them. But that would be a bad thing — because they are porcupines! Becoming a park ranger was a way of combining what I love with work. Before, I would go backpacking for fun. Now I sometimes get paid to backpack. I used to wake up in the morning and dread going to work. This job isn't all wonderful all the time, but there's usually something every day that makes me smile.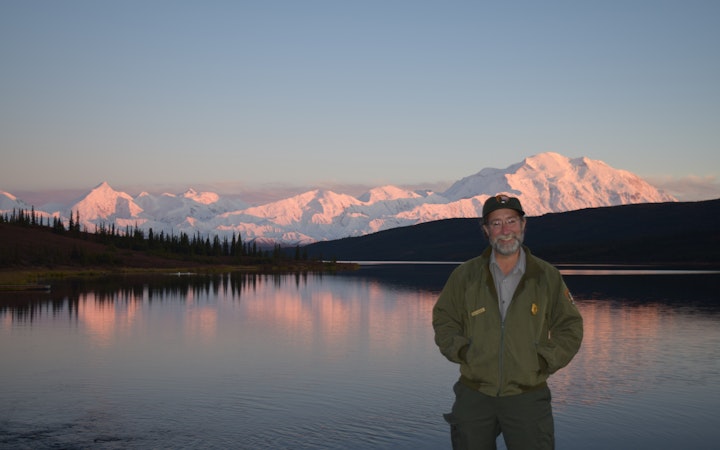 How I Got Here
I was working in the corporate world, in magazine publishing, sitting in a cubicle. On weekends, I couldn't wait to go backpacking. I remember reading an article, I think it was in Esquire magazine, and there was a line I've never forgotten:
"When weekdays await weekends, our delight in recreation reveals our misery."
That was true for me. I was living for the weekends, hoping Monday through Fridays would pass quickly, daydreaming about backpacking in the woods or windsurfing at the beach on weekends. But after a time, I thought to myself, 'What am I doing? I'm wishing away three-quarters of my life.' Eventually, I saved enough to quit my job. My friend and I went on a summer-long trip backpacking through the national parks. I think we were backpacking in Kootenay National Park in Canada when we came upon a ranger cabin. There was no one there. It was beautiful. A high alpine valley rimmed with mountains and wildflowers. The cabin had an outhouse. It was just a toilet, really, without a building around it. And I remember saying to my friend, 'If I could wake up every day and take my morning sit-down here, I'd be the happiest man alive.' And she said, "Well, maybe you should be a park ranger?" And I was like, 'Yeah, maybe I should be a park ranger.' When we were done with that trip, I started my master's degree in environmental studies. After a year and a half of doing that, I visited the USAJOBS site and applied for ranger jobs in the parks I liked when we had visited them. I got lucky and got a job in Sequoia and Kings Canyon National Parks. And that's how it started.
This is the start of my eighth summer at Denali, but I worked four summers as a backcountry ranger in Sequoia and Kings Canyon National Parks. So I have 12 seasons of experience.
I went into this field because of a love of nature: that's definitely the major portion of it. My former job, direct mail marketing, was wasteful and I had become increasingly environmentally aware. You mail out millions of pieces of mail and 98 percent of it gets tossed. I felt guilty. I wanted to get into a field that would have a positive impact on the natural world.
I'm from New Jersey. I spent my formative years, my high school years, in Cherry Hill, N.J. I later lived and worked in Manhattan. New Jersey is the most densely populated state in the nation and NYC is full of people. I wanted to get away, where there are not so many people. That's what brought me to Alaska.
My mother was a schoolteacher. My father worked for RCA for more than 30 years. He was a corporate guy and his advice to me was: 'Get in with a good company, they'll take care of you. You can work your way up.' He was the son of immigrants, and he made good that way. So I took his advice to heart. Working in the corporate world had its moments, but mostly it seemed I was working just to make money. And at some point, I thought, 'Isn't there something more than this?' I wasn't finding satisfaction in my positions. When I was a boy, in summers we'd go on family camping vacations. We'd put the canoe on top of our station wagon, pack the big tent, and drive out to Pennsylvania. We also took bigger trips to Nova Scotia and Maine. I really liked it.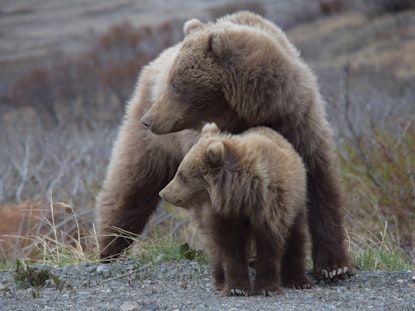 A Typical Day
I don't have a set routine. I'm part of the Visitor and Resource Protection division. I make sure visitors do what they are supposed to do: That they don't feed animals; that their camping food is stored right; that they have a bear can. I also make sure they don't camp near the road. I'm here to help them. I'll check their permits; give them advice; ensure they are okay. But the majority of my day is spent patrolling the last stretch of the 90-mile dirt road. It's the way visitors enter the park, usually by park buses. I drive a big white pickup with a red light on the roof and a shotgun rack in the back. My medical supplies are in the back seat. Most days, I'll get a radio call asking me to respond to a small problem. But some days it'll be a medical emergency. The first time I came to Denali, I was surprised by the brute wilderness. We were driving up the dirt road and this moose and a newborn calf with its legs still shaky climbed onto the road. As we were watching them —so cute! — a grizzly bear came flying across the road and tackled the calf. They rolled off into the bushes, and we could see the mama moose trying to fight off the bear. That was when I realized how real this wilderness is; that things out here can eat you. It really woke me up.
The Workplace
I stay in a small cabin. It's deep in the park. I own a house in Denali, 15 minutes outside of the park. But it doesn't make sense to commute back and forth from my house. It takes four hours to drive the dirt road to the park entrance. So for work, I stay in the cabin. It's also why I work eight days straight, ten hours a day, and then have six days off. The cabin has no running water. No toilet. I have an outhouse. I haul water up from the ranger station, two miles away. I also shower there and do my laundry. There's a phone at the station that we share. Most days it has internet service. I have solar electricity and a propane stove and a refrigerator in my cabin. A few other park employees live near the station, so I'm not alone.
I've always wanted to work in remote areas of the park, so a lack of conveniences (running water, electricity, internet) is a positive part of the experience. I've spent enough time in an office staring at a computer, and have tried to put that sort of work far, far behind me. But most front-country, seasonal park employees can expect to have water, internet, and cell-service, even if there is some sort of shared-living arrangement (a roommate or perhaps a bathhouse). It's like being in college.
Plus, it is common in Alaska for people to live in dry cabins (no running water and an outhouse), even in the city of Fairbanks. There are a number of dry homes in our neighborhood, where people haul their water from the community well. It is expensive and complex to put in a well and septic system and prevent it from freezing in the winter, so many people decide not to do it. I am fine with it in the summer, but heading out to the outhouse when it is minus 50 out would be a bit much for me.
I have six months off every year, but of course, there are full-time jobs and careers in the park service. We have maintenance people, people who work on the roads, there are administrative jobs. And in the resource division there are biologists, archaeologists, and historians. I wear a uniform and a badge and a nameplate. I like it — it makes getting dressed easy. Solitude. It's beautiful here.
Myths of the Profession
Funny, people say to me, 'You have the greatest job, I'd love to do it.' And I say, 'Yea, but I don't have running water.' And they say, 'Really?' Or I say, 'I don't have a phone. We share a phone.' And they say, 'What, no cell phone?' People have this romanticized idea of park rangers without understanding the sacrifices that go along with it. And then there is the pay. I made more money 30 years ago at the beginning of my career. Getting paid in views, in nature, in wildlife is good, but you still have to eat.
Advice for someone thinking about going into the field
Get some experience in environmental work, and some education. And be persistent and apply for many jobs — a whole bunch and see what you get. It's a fun job. It comes with some sacrifices. You have to want to be in a remote place. Not always though. You can work at the Statue of Liberty National Monument. It depends on what areas you are interested in. But all of us have a love of nature and the outdoors.
Advice to my Younger Self
Maybe I should have stayed a biology major, instead of switching to business management. Life seems long, but it's really quite short. and it doesn't make sense to waste a bunch of time doing something you don't like. It's hard to find the right balance; to have enough money to live well, compared to doing something you love for less money. If I had a bio degree and an advanced degree, I could have worked for the park's resource division. We have people there who spend all their time studying wolves. That seems like a fun job. Taking my father's route, the corporate route, seemed easier and safer at the time. I saw how it worked for him. It's harder to imagine a job you haven't been exposed to or thought possible. I wish I had had exposure to a job like this when I was younger. But I'm happy now. It all worked out.
Before I was a park ranger, I lived in Greenwich Village, in Manhattan. For eight years I lived in a 300-square foot tenement apartment with a bathtub in the kitchen. I could take a bath and flip eggs on the stove at the same time. I had a Murphy bed I'd pulled down each night. In the morning I'd fold the bed up and move the chair back in place. Now I live in a cabin in a national park. It's as small inside as my city apartment was, but it's enormous outside. I used to leave my front door in NYC and enter into a crowd. Now I leave my cabin door and see the tallest mountain in North America. Then I was surrounded by people. Now I'm surrounded by nature.
Categories:
Science
Environmental Science
"Each other's lives are our best textbooks."

– Gloria Steinem
Sign Up